Store Hours
Monday through Thursday 10 am to 10 pm
Friday and Saturday 10 am to 10:45 pm
Sunday Noon to 6 pm

Holiday Hours
We are open every day except for Thanksgiving, Christmas, New Year's Day and Memorial Day. Our hours of operation vary on the eves of those holidays. Please call or check our website for modified holiday eve hours.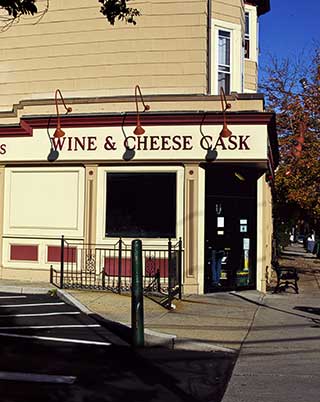 Good news! We have a large parking lot that occupies one corner of the intersection of Washington and Beacon Street. You can't miss us.
Address
407 Washington Street, Somerville MA 02143
Contact
Email us:
Wine department
Cheese department
Beer department
Liquor department
General inquiries
Call us:
(617) 623 8656
Car
Bus
The 86 bus stops right at our entrance on Washington Street while the 83 bus stops in front of our parking lot on Beacon Street.
Subway
Closest T stop is Harvard Square on the Red Line. Take the 86 bus towards Sullivan Station or walk about one mile from the Science Center outside Harvard Yard along Kirkland Street which will turn into Washington Street at Beacon. (We are right on the border of Cambridge and Somerville, hence the two different names for the same physical street.)