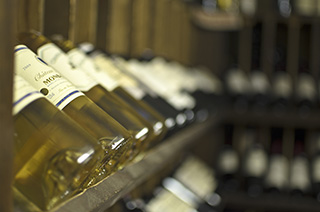 Inventory
Because our inventory changes daily, please call or email us with your inquiry:
Wine    Beer
Cheese   Liquor
Special Orders
If there is a wine or spirit we don't have on our shelves, we are happy to order it for you at no extra charge in any quantity, including by the bottle. Beer special orders are by the case.
Delivery
We deliver Monday through Thursdays between 11 and 5 pm to Somerville and Cambridge locations with 48 hours' prior notice. Please call to arrange delivery. A delivery fee of $20 is waived with an order totaling $250. A person of legal age with ID is required to receive the delivery.
Wines of the Month
These are our picks of four wines that are delicious values under $10. We taste a lot of wines in this price range to find the best ones. When you don't have the time to peruse all 2000 wines in our selection, one of the 'Wines of the Month' is always a quick and easy choice.
Case Discounts
A mixed wine case of twelve bottles receives 10% off. A complete case of a single wine is 15% off. For Sparkling, Fortified wines, and our four 'Wines of the Month,' the discount is always 10%. Wines featured in the current newsletter will still receive an additional discount off their sale price, whether it is 10% off as part of a mixed case or 15% off as a complete case.
Case discounts for boxed wines and 1.5 L wines are 5%.
A case discount of non-sale liquor (750 ml) is 5%.
Gift Cards
We have Gift Cards available at any denomination at the register or over the phone: (617) 623 8656.
Gift Wrap
Upon request, we provide complimentary gift bags with your purchase. Just ask us at checkout.
Quarterly Wine Sale
Every three months, we hold our popular Wine Case Sale during which the mixed case discount increases to 20%. Half a case (six bottles) receives a 10% discount. Certain wines such as the four 'Wines of the Month,' and Sparkling and Fortified wines receive a 10% discount in a full case. Blue tag wines are net priced and receive no discount. The sale lasts on average 10 days depending on the vagaries of the calendar. Sale dates are announced on our website and in our newsletter.
Newsletter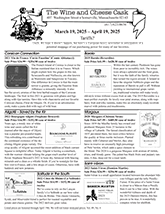 We publish a newsletter on the 15th of every month featuring wine, food and beer specials, as well as our 'Wines of the Month.'