Newsletter
January 15, 2018 – February 14, 2018
Spain and Rhone
Montsant #1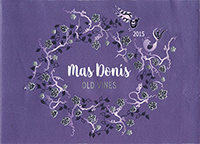 2015 Montsant 'Mas Donis' (Celler de Capçanes)
Sale Price $10.99 – $112.10 case of twelve
The cooperative winery in the Catalan village of Capçanes has again produced a wonderful value red. This is fruity, herbal, and spicy with a stony, dry finish.

Montsant #2
2014 Montsant 'Dido' (Pérez i Barbier)
Sale Price $17.99 – $183.50 case of twelve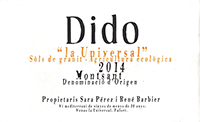 Sara Pérez and René Barbier were two of the prime movers in resurrecting the Priorat region. From there they moved on to Montsant, where their old vine, organic vineyards produce this wine. Here the wine takes on more earthy depth from the granite soils and rich, ripe fruit and body from the Garnaxta and Cariñena.

Brézème
2015 Côtes du Rhône 'Brézème' (Eric Texier)
Sale Price $24.99 – $254.90 case of twelve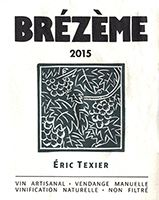 The Côtes du Rhône sub-appellation of Brézème is aligned more with the Northern Rhone appellation of Hermitage than with the Southern Rhone appellation of Chateauneuf-du-Pape. Here Eric Texier hones his craft with Syrah grown in a rocky, southeast facing vineyard. His 2015 is amazingly deep with gamy, smoky, peppery flavor along with beautifully refined raspberry fruit. Texier's wines are produced with as little sulfur as possible and benefit from some exposure to air, so we suggest you open it, pour a glass, and wait a good hour before digging in. It will be worth it.
Rioja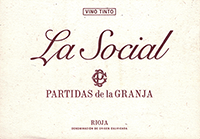 2015 Rioja 'La Social' (Partidas de la Granja)
Sale Price $17.99 – $183.50 case of twelve
Telmo Rodriguez makes wine all over Spain, but Rioja is his home region. His latest Rioja wine is a dark, generous, and smooth red with immediate appeal. Ten months aging in old oak barrels gives the wine a round, gentle texture while preserving its fresh fruit.

Les Baux de Provence
2015 Les Baux de Provence (Mas de Gourgonnier)
Sale Price $14.99 – $152.90 case of twelve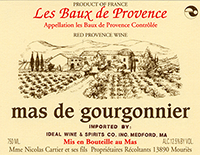 This long-time favorite has produced a better than expected wine in 2015. This is beautifully balanced between the herbal and the fruity along with fine, earthy tannins. Eric Texier (see below) is a big fan of Mas de Gourgonnier for the pure, seemingly effortless pleasure this all-organic estate delivers.

The Big Janasse
2015 Côtes du Rhône Villages 'Terre d'Argile' (Domaine de la Janasse)
Sale Price $22.99 – $234.50 case of twelve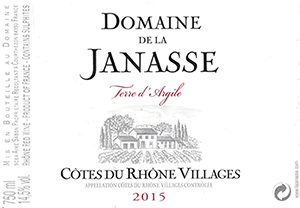 The Côtes du Rhône that Domaine de la Janasse now labels as 'Reserve' is one of the region's greatest values. But we leapt when the 2015 Terre d'Argile single-vineyard wine was offered. This is a big, bold red with intense ripe fruit aromas, textured palate presence, and a long, delirious finish. We think that this resembles Chateauneuf-du-Pape in quality and great value.
Sweet 375s
2015 Niersteiner Hipping Riesling Auslese (Schneider)
Sale Price $9.99 per 375ml – $101.90 case of twelve
2015 Trittenheimer Apotheke Riesling *** Auslese (Bollig-Lehnert)
Sale Price $13.99 per 375ml – $142.70 case of twelve
2015 Nackenheimer Engelsberg Riesling Beerenauslese (Binz)
Sale Price $19.99 per 375ml – $203.90 case of twelve


A Rosa For All Seasons
Perlwein Rosa Trocken (Fritz M¨ller)
Sale Price $14.99 – $152.90 case of twelve


Qupé
2015 Central Coast White (Qupé)
Sale Price $9.99 – $101.90 case of twelve

Marie-Antoinette
2015 Pouilly-Fuissé 'Marie-Antoinette' (Vincent)
Sale Price $24.99 – $254.90 case of twelve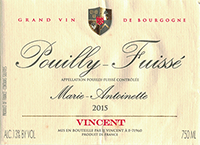 A Beauté of a Wine 
2015 Ile de Beauté Pinot Noir (Francois Labet)
Sale Price $17.99 – $183.50 case of twelve


Darting L
2016 Dürkheimer Nonnengarten Riesling
Kabinett (Darting)
Sale Price $14.99 per Liter – $152.90 case of twelve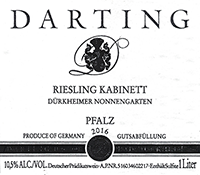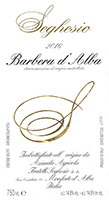 La Barbera
2016 Barbera d'Alba (Seghesio)
Sale Price $13.99 – $142.70 case of twelve


Stellar Tuscan
2015 Toscana Rosso 'Monteleccio' (Sesti)
Sale Price $19.99 – $203.90 case of twelve

Orvieto Classico
2016 Orvieto Classico 'Terre Vineate' (Palazzone)
Sale Price $11.99 – $122.30 case of twelve

Specialty Foods

Beemster Vlaskaas $13.99 per lb. 
(Regular Price $20.99)


Üsi Minnie $20.99 per lb.  (Regular Price $22.99)
Agour Mendia $15.99 per lb.
(Regular Price $16.99)


Blue Ledge Farm Lake's Edge
$23.99 per lb. (Regular Price $25.99)
Wines of the Month —January 15, 2018 through February 14, 2018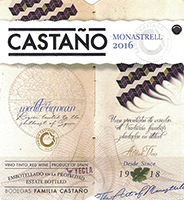 2016 Yecla (Castaño)
Sale Price $7.99 – $86.29 case of twelve


2015 Coteaux Bourguignons (Vignerons de Buxy)
Sale Price $9.99 – 107.89 case of twelve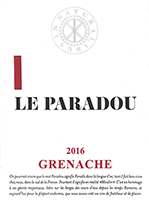 2016 Grenache (Le Paradou)
Sale Price $8.99 – $97.09 case of twelve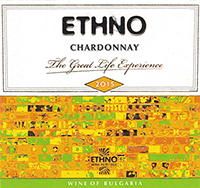 2015 Chardonnay (Ethno)
Sale Price $7.99 – $86.29 case of twelve