Newsletter
August 15, 2015 – September 14, 2015
Rouge, Rosso, Tinto
New Cabernet Franc
2014 Saumur-Champigny 'Voltige des Clos' (Les Clos Maurice)
Sale Price $12.99 – $132.50 case of twelve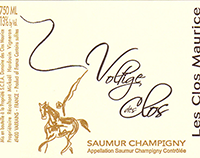 Saumur-Champigny is a one-grape pony. There is no white or rosé in Saumur-Champigny, just red wine made from Cabernet Franc. Back in February we tasted with Mickael Hardouin, the proprietor of Les Clos Maurice, and found his wines to be delicious. His entry-level wine, the 'Voltige des Clos,' is a complex mix of smoky blackberry aromas and ripe round tannins with a long, lingering, dry finish. In our experience Loire Valley reds have amazing versatility. This is the red wine to serve with fish.

Real Chianti
2012 Chianti Classico (Viticcio)
Sale Price $15.99 – $163.10 case of twelve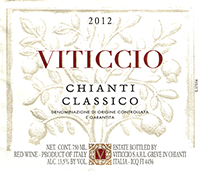 What we liked most about the 2012 Viticcio was its directness. This Chianti Classico is neither brooding nor going through an identity crisis. It slaps you across the palate with a vibrant dose of Sangiovese's hallmark sour cherry fruit, snappy acidity, and fine, biting tannins. With the proper balance these elements knit together to make a memorably honest Chianti that will sing with a fresh tomato sauce and some homemade pasta.

Made in Tenerife
2013 Valle de la Orotava-Tenerife '7 Fuentes' (Suertes del Marqués)
Sale Price $19.99 – $203.90 case of twelve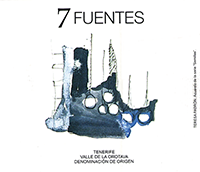 While researching this wine, we learned that Spain's highest mountain is not on the mainland. Mount Teide on Tenerife in the Canary Islands owns that distinction, plus it is the world's third largest volcano. The soil on Tenerife can be described as 'profoundly volcanic,' and the wines produced there have an earthy, savory quality like no others. The 2013 Valle de la Orotava (denominacion) '7 Fuentes' (wine) from Suertes del Marqués (producer) is made from Listan Negro and Tintilla (grapes) from vines as old as one hundred years. With its wispy dried-currant fruit and its volcanic-ashy dryness, this fascinating wine seems plucked from the trade winds of the Atlantic.
Valpolicella
2014 Valpolicella Classico (Ca' la Bionda)
Sale Price $11.99 – $122.30 case of twelve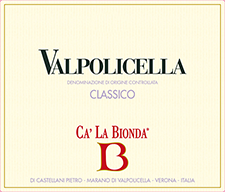 "The air over the Valpolicella vineyards trembles with the waves of light bouncing off the giant mirror of Lake Garda, a quality of the landscape that the wine calls back with the shimmering luster of its color."

—Victor Hazan, Italian Wine, 1982.

We do love the color of this wine, how it is simultaneously deep and transparent. This 2014 Valpolicella Classico from Ca' la Bionda is a ripe, elegant red that will be a perfect match for a grilled eggplant sprinkled with mint.

Verduno Pelaverga
2014 Verduno Pelaverga 'Speziale' (Fratelli Alessandria)
Sale Price $19.99 – $203.90 case of twelve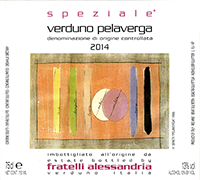 Sometimes we come across a wine that unexpectedly delights with its unique personality. There's no wine quite like this one. And according to Vittore Alessandria, who runs his family's historical estate Fratelli Alessandria in Verduno, this is also a rare wine, as there are only twelve producers of Verduno Pelaverga. Although the hilltop village of Verduno might be better known as one of the eleven communes of Barolo, it also has its very own DOC using the native Pelaverga Piccolo grape. This particular Verduno Pelaverga from Fratelli Alessandria is named 'Speziale' after the characteristic spiciness of Pelaverga Piccolo. Translucent in color and fragrant with dried rose petals and white pepper, this elegant red charms with its delicate strawberry fruit and spice. As the back label suggests, this wine pairs well with 'good company.'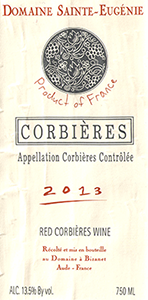 Corbières
2013 Corbières (Domaine Sainte-Eugénie)
Sale Price $9.99 – $101.90 case of twelve
Languedoc. Here Domaine Sainte-Eugénie makes a sun-soaked, generous red blend of Carignan, Grenache, and Syrah. The 2013 is spicy, juicy, and full of fruit. Have this with a full-on summer ratatouille.

Wines of the Month — August 15, 2015 through September 14, 2015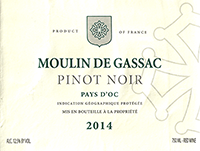 2014 Pinot Noir (Moulin de Gassac)
Sale Price $9.99 – $107.89 case of twelve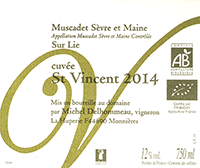 2014 Muscadet Sèvre et Maine 'St. Vincent' (Delhommeau)
Sale Price $9.99 – $107.89 case of twelve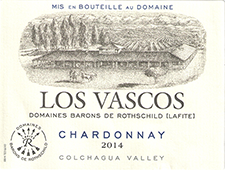 2014 Chardonnay (Los Vascos)
Sale Price $8.99 – $97.09 case of twelve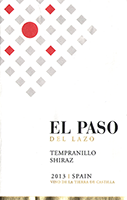 2013 Vino de la Tierra de Castilla (El Paso del Lazo)
Sale Price $6.99 – $75.49 case of twelve