Newsletter
November 15, 2015 – December 6, 2015
Values, Plus
Aglianico, Vulture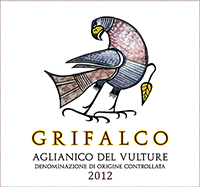 2012 Aglianico del Vulture 'Gricos' (Grifalco)
Sale Price $9.99 – $101.90 case of twelve
Aglianico, the great red grape of the south of Italy, can also be a great value. The 2012 Gricos is packed with spicy fruit and ripe tannins. Have this with hearty, spicy pasta.

Bianco, Pinot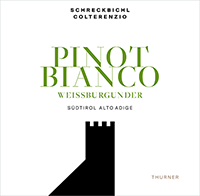 2014 Alto Adige Pinot Bianco (Colterenzio)
Sale Price $11.99 – $122.30 case of twelve
The most amazing aspect of this wine is its body. This Pinot Bianco has richness in spades, with its apple and pear fruit supported by crisp dryness.

Riesling, Feinherb
2014 Piesporter Riesling Feinherb (Später-Veit)
Sale Price $11.99 per Liter – $122.30 case of twelve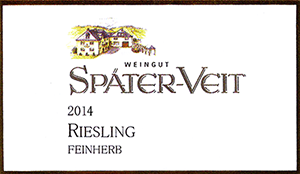 In German wine nomenclature Feinherb is a synonym for Halbtrocken. This Später-Veit Riesling Feinherb is decidedly richer and drier than one might expect in an $11.99 Liter bottle. This will make a lot of holiday diners happy.

Riesling, Auslese
2011 Niersteiner Hipping Riesling Auslese (Schneider)
Sale Price $9.99 per 375ml – $101.90 case of twelve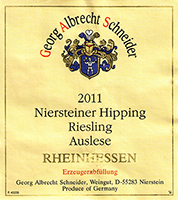 We suggest three options for this delicious half bottle of Riesling Auslese: Serve it as an aperitif with nuts and cheese. Or serve it with dessert (think pumpkin). Or serve it with spicy curry, as Eric Asimov of the New York Times suggests: "Intrepid palates may try an Auslese Riesling, perhaps the most thrilling wine in the world that almost nobody drinks."

Cabernet, Paso Robles
2013 Paso Robles Cabernet Sauvignon (Broadside)
Sale Price $13.99 – $142.70 case of twelve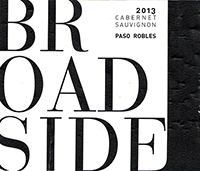 Broadside has made several vintages of excellent Paso Robles Cabernet. This is by far their best value. The 2013 is packed with dark plum fruit accented with herbs and enough tannins to stand up to a grilled ribeye.
Maremma, Toscana
2014 Maremma Rosso (Montauto)
Sale Price $10.99 – $112.10 case of twelve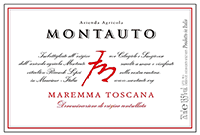 When we see a red Tuscan wine, we immediately think Sangiovese, but Montauto's Maremma is primarily composed of Ciliegiolo (80%), with Sangiovese in a supporting role. Interestingly, DNA testing has revealed that Ciliegiolo is a parent of Sangiovese. This cherry-fruited, fresh red is perfect for bean dishes and tomato sauces.

Nero, Pinot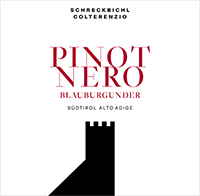 2014 Pinot Nero (Colterenzio)
Sale Price $14.99 – $152.90 case of twelve
It is possible that any grape grown in the Alto Adige could make good wine. Here Colterenzio has made a world-beating Pinot Noir. For a fetching price this delivers superb ripeness and nice balance between fruit and structure.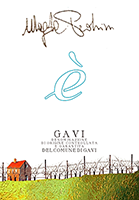 Gavi, Cortese
2014 Gavi del Comune di Gavi 'è' (Ca de Meo)
Sale Price $14.99 – $152.90 case of twelve
'è' is a truly superior Gavi, with the Cortese grape grown in the blue marl soils of southern Piedmont. Rich in texture, with aromas of fresh flowers and flavors of delicate fruit, this wine is perfect for simple fish dishes and risotto.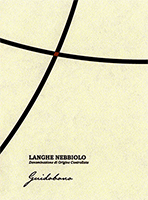 Nebbiolo, Langhe
2014 Langhe Nebbiolo (Guidobono)
Sale Price $10.99 – $112.10 case of twelve
Guido delivers again. This time it's the Langhe Nebbiolo with its deep purple fruit, rose petal aroma, and ripe tannins.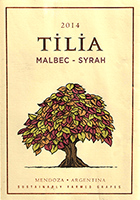 Malbec, Syrah
2014 Malbec-Syrah (Tilia)
Sale Price $8.99 – $91.70 case of twelve
This 50/50 blend combines soft fruit and spicy tannins. Try this fabulous value with a hearty bowl of lentils.

Rhone, Vieilles Vignes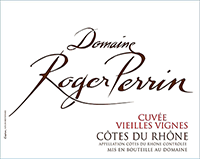 2013 Côtes du Rhône 'Vieilles Vignes' (Domaine Roger Perrin)
Sale Price $13.99 – $142.70 case of twelve
Domaine Roger Perrin continues to deliver great Rhone wines in both red and white. This old-vine red is a full-bodied, balanced Grenache with peppery, herbal fruit and a rich, dry finish.
Wines of the Month — November 15, 2015 through December 6, 2015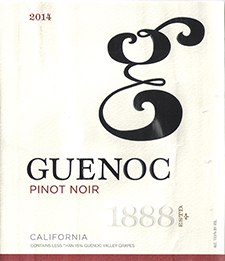 2014 Pinot Noir (Guenoc)
Sale Price $7.99 – $86.29 case of twelve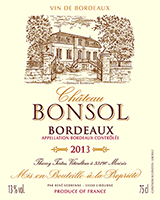 2013 Bordeaux Rouge (Château Bonsol)
Sale Price $7.99 – $86.29 case of twelve

2014 Alicante 'Monastrell' (Tarima)
Sale Price $7.99 – $86.29 case of twelve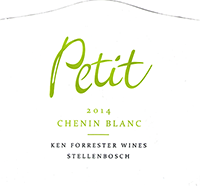 2015 Chenin Blanc 'Petit' (Ken Forrester)
Sale Price $7.99 – $86.29 case of twelve