Newsletter
January 15, 2014 – February 14, 2014
Piedmont and Alto Adige Rosso
Monferrato Rosso
2012 Monferrato Rosso (Tenuta La Pergola)
Sale Price $13.99 – $142.70 case of twelve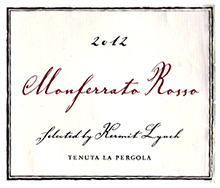 Superb importer Kermit Lynch has bravely crossed the border from Provence into Piedmont to mine some fine Italian wines. This 2012 Monferrato Rosso may be his best value red. We certainly appreciated its wonderful freshness and lovely aromatic spice. According to Lynch's own newsletter the blend is a mix of Barbera from Monferrato and Barbera from Asti along with some Freisa and Bonarda. These contribute energy, deep fruit, perfume, and tannin.

Langhe Rosso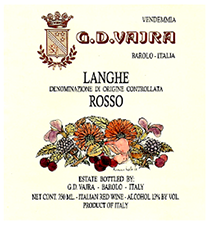 2011 Langhe Rosso (Vajra)
Sale Price $13.99 – $142.70 case of twelve
While the wine above is a Barbera-based Piedmont blend, Vajra's equally delicious red is based on Dolcetto. Added to the purple fruit of Dolcetto is a mix of Barbera, Nebbiolo, and Pinot Noir. This leads to a bright, crisp balance and a long, fresh finish.

Beautiful Barbaresco
2009 Barbaresco 'Vicenziana' (Silvio Giamello)
Sale Price $39.99 – $407.90 case of twelve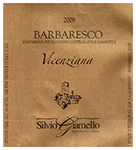 This is another Kermit Lynch selection and it is a beauty. The entire annual production of the Giamello family amounts to 850 cases. Fortunately most of it is from 40- to 50-year-old Nebbiolo vines in Barbaresco. Their farming practices are purely traditional, natural, and chemical-free. After a temperature-controlled fermentation in stainless steel, the wine is transferred into large old Slovenian oak botti for two to three years. The aromas are a lesson in Nebbiolo from Barbaresco – red fruits, dried rose petals, and a subtle earthiness. The palate is a graceful combination of gentle fruits and ripe tannins. The finish, long and pure, generously returns the aromatics.
In the Shadow of Monte Bianco
2009 Carema 'Etichetta Blanca' (Ferrando)
Sale Price $54.99 – $560.90 case of twelve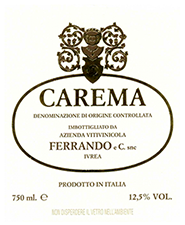 While the Carema zone is located in Piedmont its climate more closely resembles that of the Val d'Aosta. In a south-facing amphitheater in the shadow of Monte Bianco the Ferrando family trains their Nebbiolo on granite pillars to maximize sun in the high altitude. The soils are dominated by slate and this gives a deep minerality to the wine. To the eye this wine looks light, but there is a tensile strength of tannin and acidity that gives it decades of life. For those who adore Barolo and Barbaresco this provides another gorgeous facet to the jewel that is Nebbiolo.

The Sunny Side of the Alps
2012 Alto Adige Pinot Nero 'Meczan' (J. Hofstätter)
Sale Price $19.99 – $203.90 case of twelve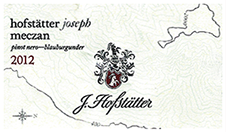 Bordering Austria, Alto Adige is Italy's northernmost growing area and it is certainly better known for Pinot Grigio than it is for Pinot Nero. Hofstätter's Pinot Noir will silence any critic who does not believe that world class Pinot Noir can be made in Italy. The 2012 has wonderful wild berry fruit aroma, graceful tannins, and an elegant, pure Pinot Noir finish.

Lagrein
2012 Alto Adige Lagrein (Colterenzio)
Sale Price $14.99 – $152.90 case of twelve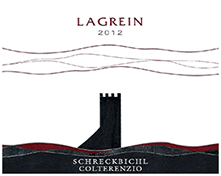 Another great red surprise from Alto Adige is the mysteriously well-connected Lagrein. Recent DNA parentage analysis reveals that Lagrein is a natural cross involving Teroldego, a sibling of Marzemino, a nephew/niece of the parent of Syrah, a grandchild of Pinot, and a cousin of Syrah. And you thought that your family reunions were complicated. All that aside, the 2012 Lagrein is a spicy, fruity alpine red with good, gripping flavor.
Alexander Valley Cab
2010 Alexander Valley Cabernet Sauvignon (Picket Fence)
Sale Price $14.99 – $152.90 case of twelve


Côt a.k.a. Malbec
2012 Vin de Pays de Val de la Loire 'Côt' (La Pépie)
Sale Price $14.99 – $152.90 case of twelve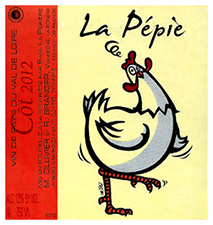 Chorey-Les-Beaune
2011 Chorey-Les-Beaune (Joseph Drouhin)
Sale Price $23.99 – $244.70 case of twelve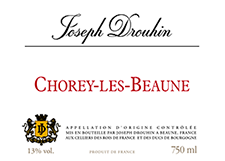 Cahors a.k.a. Malbec
2010 Cahors 'Cuvée Maurin' (Domaine la Bérangeraie)
Sale)
Sale Price $17.99 – $183.50 case of twelve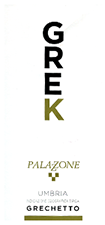 GREK
2012 Umbria 'Grechetto' (Palazzone)
Sale Price $14.99 – $152.90 case of twelve


Saint Syrah
2012 Côtes du Rhône (Saint Cosme)
Sale Price $14.99 – $152.90 case of twelve


Ventoux, Mont
2012 Ventoux (Château Pesquié)
Sale Price $14.99 – $152.90 case of twelve


Since 1380
2012 Sancerre (Gérard Boulay)
Sale Price $24.99 – $254.90 case of twelve


Turn the Boot Around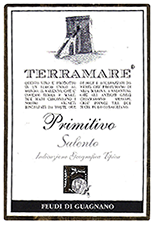 2011 Salento Primitivo (Terremare)
Sale Price $9.99 – $101.90 case of twelve

Demi-Vouvray
2012 Vouvray 'Les Aumones' (Le Capitaine)
Sale Price $11.99 – $122.30 case of twelve


Rioja, Very Rioja
2008 Rioja Reserva (Bodegas Muriel)
Sale Price $17.99 – $183.50 case of twelve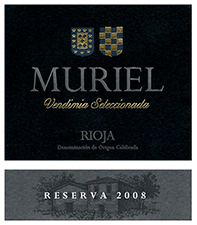 Wines of the Month — January 14, 2013 through February 15, 2014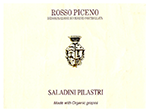 2012 Rosso Piceno (Saladini Pilastri)
Sale Price $7.99 – $86.29 case of twelve



2012 Vin de Pays d'Orange (Secret de Campane)
Sale Price $6.99 – $75.49 case of twelve


2012 Côtes de Gascogne 'Cuvée Marine' (Haut Marin)
Sale Price $7.99 – $86.29 case of twelve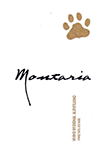 2012 Alentejano (Montaria)
Sale Price $5.99 – $64.69 case of twelve