Cheese
With 'Cheese' as half of our name we take seriously our mission to provide great cheese. We aim for both breadth and depth in our imported and domestic offerings. Whenever possible, we offer raw milk versions alongside their pasteurized cousins.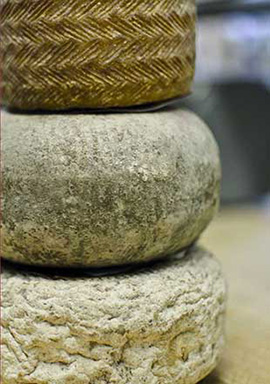 Our imported cheeses hail from more than a dozen countries. With domestic cheeses, we look for handcrafted farmstead cheeses that represent different regions of our country, which is why we have cheeses from more than ten states. As for local cheeses, we couldn't be in a better part of the country, as New England (and Vermont in particular) has been a shepherding force behind the artisanal American cheese movement. Here eating local means eating some of the best cheese our country has to offer.
Read more about us in this article.
Specialty Foods
Along with cheese, we offer a variety of freshly baked breads delivered every morning from Clear Flour Bakery in Brookline. We have imported olives, jams, honeys, olive oils, vinegars, nuts and crackers, as well as tapenades, pickled vegetables, mustards, anchovies, and a variety of gourmet spreads. And if you're in the mood for something non-alcoholic, we have a large selection of imported juices, sodas, ciders, and sparkling waters to choose from.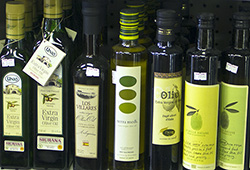 For those with a sweet tooth, we offer an extensive selection of imported and domestic chocolates, along with cookies and other sweets. For those with a savory tooth, we offer a selection of cured meats such as prosciutto di Parma, jamon Serrano, speck, bresaola, salami, and mortadella; also patés, terrines, smoked salmon, and boquerones.
As a neighborhood specialty store, we're partial to food made here in Massachusetts and the New England area. Whenever possible we offer foods from local vendors and producers. Located in Somerville, we're fortunate to be neighbors with some of our producers such as Taza Chocolate, Bonnie's Jams, and Q's Nuts. Our friends at Appalachian Jerky Company and Spindrift Sodas are just across the river. If you've heard of something new in the neighborhood, ask us and we'll see if we can provide it.
Sandwiches
We're deservedly famous in the neighborhood for our made-to-order sandwiches. We use Clear Flour and Central Bakery bread with a variety of sandwich spreads and fresh vegetables.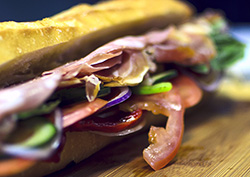 Choices range from Vermont Smoke and Cure smoked ham, genoa salami, hot capicola, smoked or roast turkey, roast beef, tuna, and mortadella to prosciutto, mozzarella, paté de campagne, and the 'Italian combo,' our signature sandwich. Whether you crave a classic deli sandwich or a fancy gourmet one, we will make you a fresh delicious sandwich to order.
Sandwich hours are weekdays 11 am to 8 pm.